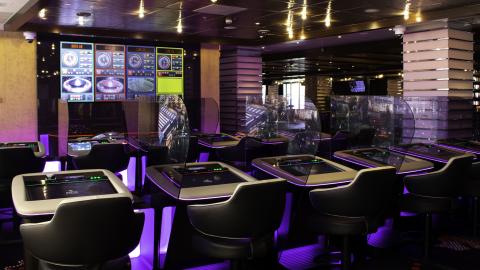 Excitement every which way
Slot machines at Pfäffikon Casino
Find out how our slot machines work and how easy it is to play your favorite machines using the Slot Card.
More than just gaming machines
Today's slot machines are ultra modern, electronic devices that work on the principle of chance. They are checked regularly to ensure they function properly and in compliance with legal regulations. Our games range from good old video-reel machines to state-of-the-art video poker devices.
The fun starts as soon as you slot in the first cent.
Number of slots
162 slots
1 multiwheel roulette zone with 9 terminals
Minimum and maximum bet amounts
Minimum bet amount CHF 0.01
Maximum bet amount: CHF 25
Jackpots
The Zurichsee Jackpot has three levels, making the chances of winning extremely high.
Our system randomly generates a jackpot, determining when and at which of the 144 connected machines it will hit. When the jackpot is hit, music plays throughout the casino and screens display the winning location.
The jackpot signs continuously display the current status of the three "Jackpot Treasures". The current jackpot level is shown on the displays throughout the casino and is also available on our website.
| Jackpot limits | Minimum | Maximum |
| --- | --- | --- |
| Diamond | CHF 11,111 | CHF 133,333 |
| Gold | CHF 2,222 | CHF 30,333 |
| Silver | CHF 1,111 | CHF 3,333 |